Press release from Monday November 17, 2008
SAC News Releases
University of London now offers free online Shakespeare authorship course
SAC News: What we've accomplished; what's next after the 400th anniversary?
Droeshout engraving in First Folio has Shakspere wearing impossible doublet!
Doubts about Shakespeare go international for the 400th anniversary
Sir Derek Jacobi and Mark Rylance revive the debate over Shakespeare's identity in an interview with NPR's Renée Montagne.
Doubters claim victory on Shakespeare 400th Anniversary, and renew their challenge to Stratfordians to participate in a mock trial.
The SAC at Age 10; Six New Notables; 400th Anniversary International Events
Declaration of Reasonable Doubt still un-rebutted after more than eight years
Droeshout engraving in First Folio has Shakspere wearing impossible doublet!
RSC removes Stanley Wells' article on "Authorship Debate" from its website!
SAC Update through September, 2014
SAC challenges the Shakespeare Birthplace Trust to a mock trial, to prove that Shakspere wrote Shakespeare, offering a £40K donation to the winning side.'
Actor Michael York and Shakespeare Authorship Coalition challenge the Shakespeare Birthplace Trust in Stratford-upon-Avon with new reasons to doubt the identity of the author William Shakespeare in the wake of Sony Pictures' heretical film, Anonymous.
Over 2,000 sign Declaration of Reasonable Doubt
Theater professionals sign Shakespeare Authorship Declaration
Happy Birthday and Retirement, Justice John Paul Stevens!
Shakespeare Authorship Coalition updates Declaration signatory lists
U.S. Supreme Court Justices John Paul Stevens and Sandra Day O'Connor (retired) sign the Declaration of Reasonable Doubt.
Award-winning Shakespearean actors Sir Derek Jacobi and Mark Rylance joined by growing list of declared Shakespeare authorship doubters. Michael York joins fellow actors as SAC Patron. Shakespeare Authorship Coalition marks 2nd aniversary of Declaration of Reasonable Doubt. Seven signatories added to SAC "notables" list.

November 17, 2008

Huntington Library staff sign Declaration.
Sir Derek Jacobi joins the Shakespeare Authorship Coalition as a SAC patron.
First annual report of the Shakespeare authorship coalition: the Coalition's strategy is working! Over 1,200 people have signed the Declaration of Reasonable Doubt, and we've attracted enormous attention to the authorship issue. With each new signatory, it becomes more difficult for orthodox scholars to continue claiming that there is "no room for doubt" about the identity of William Shakespeare.
Nearly 800 additional signatories have signed the "Declaration of Reasonable Doubt About the Identity of William Shakespeare" in the two weeks since prominent Shakespearean actors Sir Derek Jacobi and Mark Rylance, former artistic director at Shakespeare's Globe Theatre in London, gave the Declaration its launch in the U.K.
SAC adds 100 signers to the list of signatories of the "Declaration of Reasonable Doubt".
SAC releases its first list of signatories of the "Declaration of Reasonable Doubt", on the 391st anniversary of William Shakspere's death.
SAC and the Shakespeare Authorship Roundtable hold a signing ceremony to issue the "Declaration of Reasonable Doubt"
SAC and Shakespeare Authorship Roundtable to issue historic "Declaration of Reasonable Doubt"
SAC contact person: John Shahan at (909) 896-2006, or online.
Claremont, California, November 17, 2008 — The Shakespeare Authorship Coalition (SAC) is pleased to announce that SAC Secretary Virginia J. Renner, former head of the Reader Services Department at the Huntington Library in San Marino, California, has succeeded in recruiting ten of her former colleagues to sign her copy of the Declaration of Reasonable Doubt about the Identity of William Shakespeare. By recruiting ten signatories based on a single theme, she has set an example that we hope others will follow. The SAC has produced a limited edition of 400 of the museum-quality posters of the Declaration, each with lines at the bottom for ten signatures.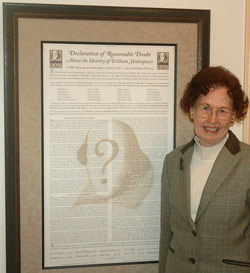 Virginia J. Renner, former head of Reader Services at the Huntington Library, proudly displays her personal copy of the Declaration, signed by ten of her former colleagues.
Virginia J. Renner, M.L.S., worked for over thirty-two years at the world-renowned Huntington Library — home of many rare editions of the works in the Shakespeare Canon, including the First Folio. As head of the Reader Services Department from 1974 until her retirement in 1999, her responsibilities included screening applicants and introducing researchers to the Library's resources.
Ms. Renner's doubts about the author's true identity (doubts shared by her late husband) date from the early 1980s when she began reading the authorship claimant literature, much of it from the Huntington's own holdings. She first encountered Shakespeare authorship doubters on the Huntington's professional staff when she began working there in 1967.
Shakespeare scholars from all over the world come to the Huntington to do research, and the fact that so many well-educated people who have worked there doubt Shakespeare's identity is startling. It certainly contradicts the orthodox stereotypes of authorship doubters.
Nearly 1,400 people have now signed the Declaration including 300 during the last year. These include 244 (18%) current or former college/university faculty members, 196 (14%) with doctoral degrees, and 299 (22%) with master's degrees. English literature graduates held their substantial lead among academic disciplines with 232, followed by those in the arts (142), theatre arts (95), education (87), social sciences (74), math, engineering & computers (71), history (69), natural sciences (65), other humanities (62), law (59), medicine and health care (58), management (45), and psychology (42).
Notable signatories include Shakespearean actors Sir Derek Jacobi, Mark Rylance, Jeremy Irons and Michael York.
The Declaration was launched during a signing ceremony at the Geffen Playhouse in Los Angeles, California, in April 2007, and in the U.K. at the Chichester Festival Theatre in September 2007.
SAC contact person: John Shahan at (909) 896-2006, or online.